Digital Combat Simulator
Jump to navigation
Jump to search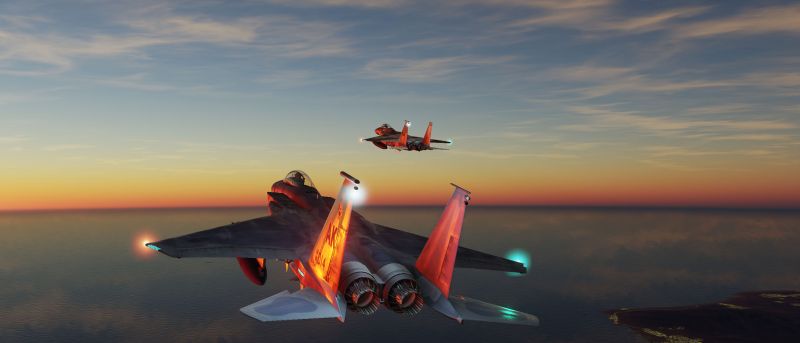 Join us!
Airgoons run — or at least try to run — a weekly(ish) session of unfortune, misadventure, and general server instability. It usually runs somewhere in the evening (UTC) on the week-end to try to cover as many time zones as possible on a day when no-one wants to do anything more useful anyway.
Unless someone has had spectacularly interesting idea, these missions will always feature at least some FC3 aircraft, as well as one of the free aircraft that come with DCS — you can experience it all for free. For the ones with less financial sense, a healthy(?) mix of other aircraft is also included, as well as stand-alone features such as LotATC or as regular in-game AWACS/GCI that let you take part on even a very dinky computer. Most of the time, we just use SimpleRadio. It allows us to use realistic radios. If only a few are putzing around or practicing, Discord is the tool. Lessons for basic stuff here: Lessons
Read about the latest harebrained scheme and how to join it in the Weekend Mission brief. Check out our Standard Operating Procedures here.
Where and how to get it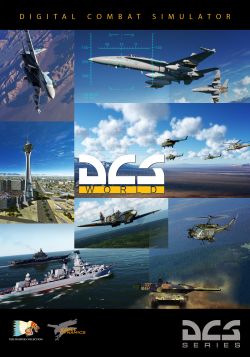 The most immediate way of getting DCS world is from Eagle Dynamics' website. It is also available on Steam.
The question, as always, is which one to get. Steam does its usual thing of unifying updating and installing and version management, but has its own DRM (in fact, it has two different layers) and is a bit slower about rolling out the latest and greatest. The standalone version, naturally, has its own DRM (again, just for fun, two different layers) and a fairly old-fashined (command line-based) updating utilities, but you get immediate access to anything that comes out. To make matters even more fun, some modules bought on Steam will provide a product code that can be activated on Eagle Dynamics' website to unlock the same module for the stand-alone version, but a couple of the more modern ones do not.
It is a classic "get it now" vs. "make it convenient" trade-off.
Another consideration is which version or branch to run. By default, you will install, run, and continuously update to the latest stable release version. "Stable," some would argue, is a bit of a misnomer. For the (not actually) extra adventurous, you can also opt in to run the open beta branch, which is where the latest (not always fully implemented) features will be available, and also in many cases the latest bug fixes. Most servers will therefore run the Open Beta branch. In Steam, this is done the same way you pick beta participation in any game. In the stand-alone client, you normally do it via obnoxious console commands but that part can be hidden behind a the friendly face of the DCS Updater GUI utility.
Freebies — what's in the box?
The free, base DCS World package comes with one full-sim aircraft module, the TF‑51D Mustang; one simplified-sim ("FC3-style") aircraft, the Su‑25T "Frogfoot"; and one piece of terrain, the Caucasus region. In 2020, it is planned to be further supplemented by a second terrain: the Mariana Islands.
The modules
DCS content is divided into "modules." There are generally four kinds: aircraft, terrain, add-ons, and campaigns. Aircraft modules are pretty much what it says on the tin: a single aircraft, occasionally with a few variants thrown in. Terrains are the world maps in which your mission take place. Add-ons are an odd mix of speciality content for specific purposes — there is no real coherent theme other than that they require some other module to really add anything useful. Campaigns, finally, are just that: a set of missions for a specific aircraft and terrain (having both as a prerequisite in order for the campaign to run).
Most aircraft modules also come with a built-in campaign as well as a collection of training and quick-action missions.
Currently available modules
Tools and add-ons
References
There are tonnes of odd little details, features, and functionalities hidden away in different parts of DCS (in particular related to mission creation). Some of these can be found in the reference section of this wiki. A couple of these pages are of a general interest to any DCS player: