Syria
Jump to navigation
Jump to search
This is a beta module.

This module is still being developed and may still be missing some features and equipment options. It is playable and most of the content is there, but some final touches and fixes for minor bugs are still in the works. It is probably safe to buy unless you crave absolute fidelity and/or very few bugs.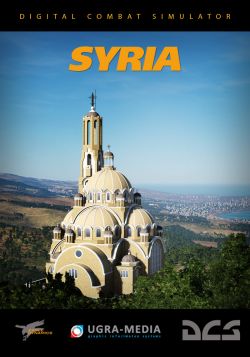 Home to an on-going civil war, the site of almost yearly border incursions and tit-for-tat retaliatory strikes, occupied, re-occupied, and contested for millennia, the Levant is one of the most politically explosive and sensitive regions in the entire world. The Syria map covers the eastern Mediterranean coast, from southern Turkey to — literally — Armageddon, covering huge swaths of historical and mythical terrain in-between. Any mission designed in this terrain is bound to upset someone because of what you decide to bomb on behalf of whom.
Taking the lessons learned from their highly detailed Normandy 1944 map, UGRA Media has recreated numerous famous locations to a level of detail that has not been seen before in DCS World. Monuments such as Baalbek's world-heritage Temple of Bacchus is there, as are the ruins of ancient Palmyra and a number of buildings in Lebanon's harbour that no longer exist.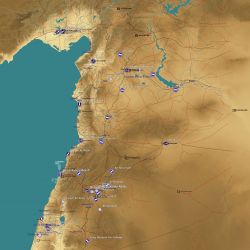 The Syria map offers at least some variety to the other modern DCS terrains. While it certainly has a lot of desert, much like Persian Gulf and NTTR before it, it is mixed in with green islands and mountains, plenty of citrus and cedar groves, and a much greener and more densely urbanised coastal area than is present in the Gulf. The terrain itself is also a lot more varied, with plenty of valleys and canyons to blast through (or hide from enemies in) and rolling hills even in the more sparse regions. The only terrain feature that is really missing to fulfil all mission needs is an interesting coastline that requires fancy anti-ship missile programming.
On the other hand, it makes up for this by having plenty of decorations that haven't been seen before in other DCS maps: static emplacements and revetments for artillery and air defences sites, extensively populated and decorated military bases to be used as strike targets, and other ground markings that indicate popular SAM spots. It is much more clearly an area geared up for, and reminiscent of, near constant warfare. This is further highlighted by static, fully working, helicopter airports and permanent FARPs build into the map.
Features
300,000km² of modelled terrain, plus significant (if much less detailed) margins for naval operations and as run-in areas for AI aircraft.
40+ airports, including almost a dozen purpose-built heliports.
A fair amount of regular VOR and NDB sites to aid with radio navigation, but next to nothing in the way of TACAN or RSBN/ИСКРА beacons.
Missing features
The Syria map is marked as Early Access in the DCS store, and had a rocky launch that clearly demonstrated why this is. While most of the early bugs (airport spawns being flagged for the wrong aircraft types, runways going in the wrong direction and endlessly confusing the AI and other funny things) its current status is more due to it being work in progress in terms of tweaking a lot of parameters. ATC radio frequencies have been changed around more than once, some aircraft spawns are still… questionable in what they do and do not allow, and many areas are suffering from performance issues.
In addition, the module currently does not support custom kneeboard loading like other terrains do. It is entirely possible to mod in a kneeboard directory but nothing from that directory loads when in-game. Finally, while there has been talk of remedying it, the inner parts of the map — most of the eponymous Syria — are somewhat lacking in detail. How much of this will end up being addressed remains to be seen.
Links and files

More information