Nevada Test and Training Range
Jump to navigation
Jump to search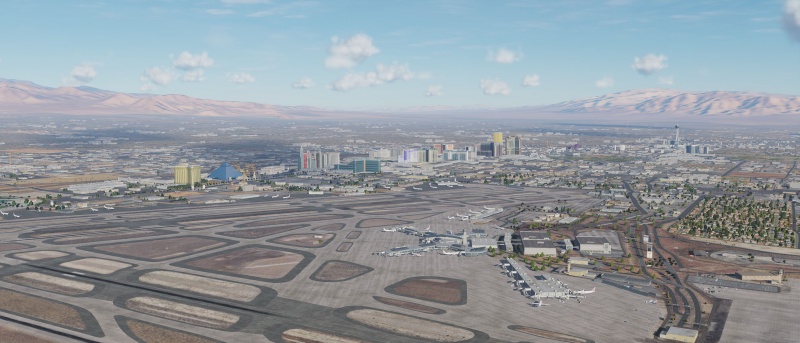 Pockmarked by innumerable nuclear-test craters, home to Area 51, the UAV battle lab at Creech AFB, Nellis AFB, Tonopah Test Range and numerous other sub-ranges, the Nevada Test and Training Range (NTTR) covers a vast area surrounding Las Vegas, including a ton of tourist traps and sight-seeing spots.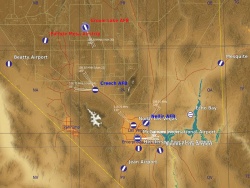 It is also DCS World's second terrain module — or the first one you had to pay for — after the free Caucasus map. Its nature has made it the natural staging ground for a number of flight and combat training campaigns, since Nellis ABF is home to the USAF Fighter Weapon School, the Aggressor training squadron, and also the host of the Red Flag training exercises.
The map itself offers a mix of mountains and deserts, at medium altitude and higher, with lots of open areas for static and moving target practice, and with a fair amount of claustrophobic canyons to blast through to hone your terrain masking skills. Downtown Las Vegas and nearby Boulder City and Pahrump offer varying city and townscapes that can be used as a backdrop for complex urban missions — especially interesting (and tricky) in helicopters due to the altitudes involved and the high-rise buildings that have to be navigated. The (mostly) modeled parts of the map cover an area of roughly 360×360 nautical miles.
While the nearby Hoover Dam and Lake Mead are part of the map, technical limitations in DCS makes it impossible to place "sea" objects (ships, oil platforms and the like) on that water, so this particular test range does not support testing and training of anti-shipping weapons. Also note that, since this is all mainland US, radio navigation is almost exclusively done via TACAN and the occasional VOR — very few NDB:s are on the map, and obviously no RSBN/ИСКРА or ARK equipment for the older Russian jets.
Links and files
Related DCS modules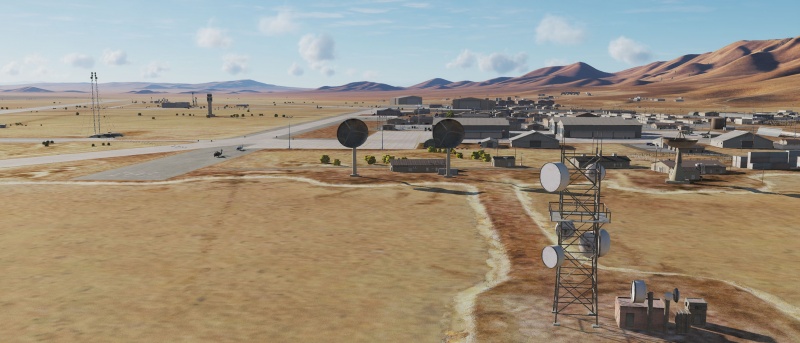 More information