Difference between revisions of "The Channel"
Jump to navigation
Jump to search
---
Latest revision as of 00:40, 22 March 2020
This is an unreleased module.

This module has yet to be released and the final features and options are ultimately unknown. Any listed functionality is purely based on early announcement and/or pre-sale hype and it may all have changed dramatically by the time the module even reaches an early access or alpha stage.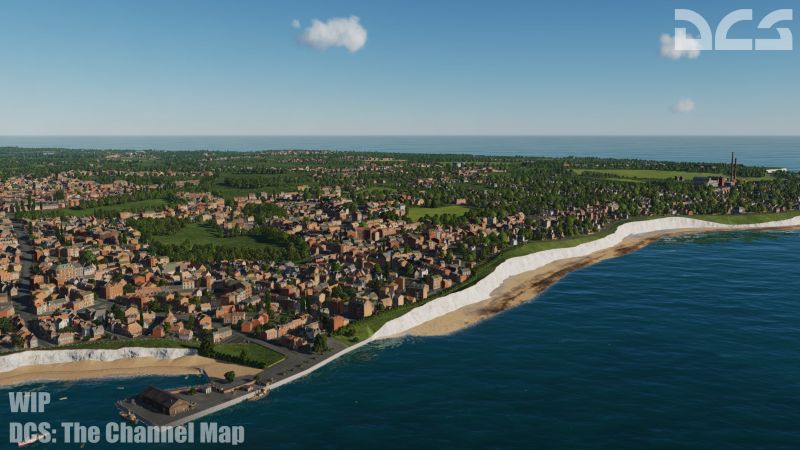 In the second newsletter of 2020, Eagle Dynamics announced the release of a another WWII terrain for DCS: World to supplement the Normandy map. With more a couple more period aircraft released, and with even more on the horizon, the D-day invasion would no longer serve as a good setting for them (if, indeed, it ever really did for the ones that are already released).
The new "The Channel" map fails to achieve any real purpose since it is essentially just an extension of the Normandy map, at a period of WWII when that particular regions saw next to no air action, and certainly none of any relevance to the war effort on either side. Curiously, it includes Dunkirk as one of its centrepieces, but the evacuation happened in 1940 as did the Battle of Britain that affected roughly the same area; all aircraft in DCS are 1944 models, and by the time those aircraft were being used, it was over mainland Germany (with very few German aircraft since the airwar was very one-sided at this late stage), not southern Britain or north-western France.
To no-one's surprise, the news of this map instantly draw criticism from those wanting historical accuracy in their WWII DCS:ing, since this terrain offers none. In addition, since it is just a continuation of the north-eastern part of the Normandy map, it drew criticism for just being more of the same rather than any of the myriads of regions of Europe that saw air combat and that aren't as commonly represented everywhere else.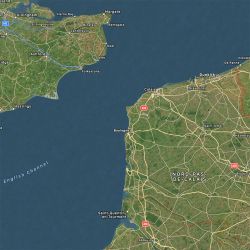 Features
Parroting the sales pitch in the news release: This map will represent southeast England, the English Channel, and portions of the low countries and north eastern France. The map is built to support missions and campaigns between the late 1930s and 1945 with a new level of detail and realism not seen before in a DCS World map. Airfields of the map include:
Manston
Detling
Hawkinge
Lympne
Dunkirk Mardyck
Saint-Omer Longuenesse
Merville Calonne
Abbeville Drucat
It will also include detailed renditions of the cities, towns, road and rail network, forests, rivers, canals, communication lines, radar stations, of this important region during the Second World War.
Missing features
All of it… It has not been released yet.
Links and files
More information