Fish in a Barrel
Jump to navigation
Jump to search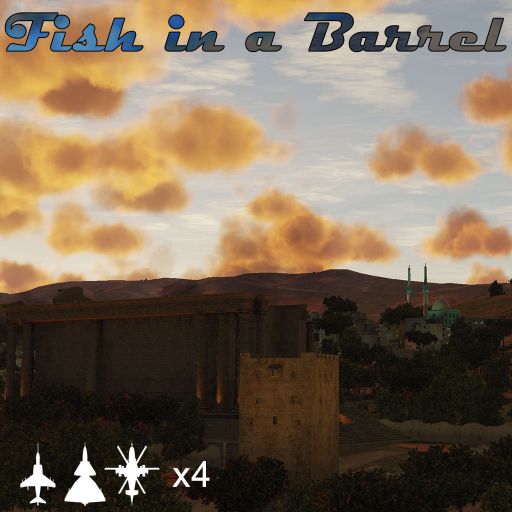 An escalating multiplayer strike mission in the Syria theatre for up to 4× AV-8B, 4× AJS-37, and 4× Ka-50.
Briefing
On-board VHF radios on all aircraft have been preset to the following channels:
1: Intra-flight (124MHz / 224 MHz)
2: Lar ATC (127.35 MHz / 250.05 MHz)
3: Havadarya ATC (123.15 MHz / 251.3 MHz)
4: Kish International ATC (121.65 MHz / 250.65 MHz)
5: Qeshm Island ATC (118.05 MHz / 250.15 MHz)
19: GCI (138 Mhz)

Friendly CAP is available along the southern border, as are air defence batteries concentrated around Bandar Lengeh, Bandar Abbas, and Qeshm Island.
Situation
Cold start at 0600
Flight times from starting bases to assembly area, and from assembly area to strike zone yields an estimated time on target of 0930 depending on the level of coordination within the strike package.
Weather: overcast with the main cloud layer at 6,500–8,000ft. Ground wind speeds at 6-8m/s.
Objectives
General concept
Mission file
What's with that name?